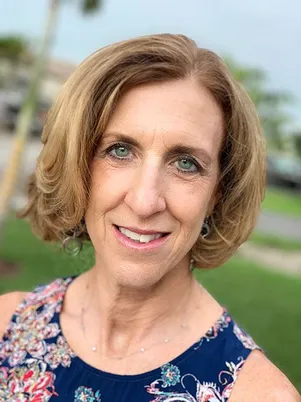 In 1996, I moved to South Florida with my husband, 2 young sons, and our dog, Katie . Although much different than New York City where I grew up, I have grown to love and enjoy living in this area where I am able to enjoy the outdoors 365 days a year. Initially, I enjoyed it by encouraging my boys to participate in athletics—tennis, cross country running, volleyball, and lacrosse. As they grew older and more independent (which I feel is an important accomplishment for a parent to encourage) I found that I had a passion for the same sports they participated in. I played team tennis for a number of years. And then, when my boys were at their team practices, I found I could bring my running shoes and go for a run. My husband was the first cyclist in the family and we now cycle together. He encouraged me to compete in a triathlon and the only thing left after the biking and the running was to learn how to swim. Nurse Penny's son took care of that and with his expert instruction I am now a certified Triathlete, having competed in over 15 races locally and in other cities! Of course, being active also allows me to eat baked goods with only a little guilt—and I LOVE to bake!
The rest of my family has their passions. My husband has his bike and loves to photograph our kids in their sports. My kids have been intensely involved in youth group leadership positions at Temple Beth El where our family has had a membership for many years. Music is a big part of our family life….just ask me about it!
My specialty interests in pediatrics include not only treating the medical issues of my patients, but also the psychological and developmental challenges kids face as they move from the school age through the teenage and onto the young adult years. I am always happy to talk about athletic pursuits and share my nutritional knowledge much of which stems from my own interest in sports nutrition.
Credentials & Education
Place of Birth
New York City, Manhattan
Raised
New York City, Manhattan
College
Brown University, Providence, Rhode Island
Undergraduate Degrees
B.A. Biology
Medical School
M.D. State University of New York at Stony Brook, New York
Residency
Mount Sinai Hospital, New York City, New York
Years Practicing Medicine
18 years
Professional Memberships
Fellow in American Academy of Pediatrics since 1991 with two successful recertification certificates, the 3rd to be completed in 2012

Florida Academy of Pediatrics
Medical Interest
In the hopes of impacting a life time of good health for my patients I have particular interest in nutrition, exercise, and sports medicine.
Although I enjoy all my patients I particularly I appreciate my time caring for, conversing with, and counseling the adolescent and young adults patients in our practice.